Wine and Beer Accessories
Wines from around the world plus the wine accessory gifts that help us share and enjoy them more. Go to: Champagne Buckets and Wine Coolers, Decanters, Wine Gifts, Beer Glasses, Wine Coasters
| | | |
| --- | --- | --- |
| | | |
| Match Wine Cooler | Match Tall Carafe with Collar | Match Antiqued Bottle Coaster |
| Pewter wine cooler is handmade by artisans in Northern Italy. Lead-free and safe for everyday use. Place removable insert in freezer to chill. In the holder, insert will keep wine cool up to four hours. | Glass carafe with pewter trim. Pewter is handmade by artisans in Northern Italy. Lead-free and safe for everyday use. Made in Italy. | Ceramic and pewter. |
| | | |
| --- | --- | --- |
| | | |
| Renaissance Pitcher | Celo Decanter | Renaissance Decanter |
| A beautiful piece and handmade decanter in pewter, from the Renaissance to our days. Endures in time... | Handcrafted decanter. Glass and pewter. | A beautiful piece and handmade pitcher in pewter, from the Renaissance to our days |
| | | |
| --- | --- | --- |
| | | |
| Waterfall Carafe | Lenox Tuscany Federal Monogram Glassware Collection | Riedel Mamba Decanter |
| Crystalline, 24k gold. Hand wash. Handpainted in the Czech Republic | Put your personal touch on every drink you serve with the initial-embellished style of the Lenox Tuscany Federal Monogram Glassware Collection. | The alluring Mamba is redolent of a sleek mamba snake. As the wine flows through every bend it is double-decanted, opening up upon entering the decanter, achieving what would take hours of decanting in a typical bowl-shaped carafe. Mirroring the snakes poised upright stance, its coiled base creates a series of air pockets which charge the wine as it moves towards the elegant upright neck upon pouring. |
| | | |
| --- | --- | --- |
| | | |
| Georg Jensen Cobra Carafe | William Yeoward "Vintage" Tall Decanter | Juliska Amalia Wine Decanter |
| Clear glass carafe. 11"T. Designed by Constantin Wortmann. | Handcrafted decanter. 14.5"T; holds 42 ounces. Handmade glass. | Carefully mouth blown by skilled artisans in the hills of Prague, this glass wine decanter from Juliska showcases an especially fine, delicate texture. Each one features slight variations and individual details characteristic of a handmade piece. |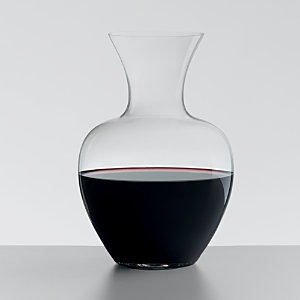 Riedel Apple Decanter
Riedel's graceful crystal decanter is perfectly sized to serve a single bottle of wine.
| | | |
| --- | --- | --- |
| | | |
| Lenox Tuscany Craft Beer Pint Glasses, Set of 4 | BrewArt BrewFlo | Lenox Tuscany Craft Beer Ipa Glasses, Set of 4 |
| A traditional crown marks this European-style pub glass as an official imperial pint, approximately 20 fluid ounces. Ideally sized for generous pours of pale ales and lagers, this pint's curved lip cultivates foamy heads. | Temperature controlled beer dispenser. Designed for BrewArt 5L kegs. High-quality compressor eliminates need for constantly refilling CO2 tanks. Pub quality and customizable beer pull tab. Convenient beer level scale. Cooling indicator. | Tall and slender, this glass is a perfect complement for lighter ales. The contoured shape preserves a frosty head, while maximizing aroma and enhancing taste. |
| | | |
| --- | --- | --- |
| | | |
| BrewArt BeerDroid Beer Brewing Station | Gilded Beer Glass | Stanley Stainless Steel Growler Set |
| BeerDroid custom brewing station. Includes American Pale Ale BrewPrint easy-to-read LCD screen. Patented end-of-fermentation (EOF) technology. Precise temperature control. Push-button brewing. | Decaled glass | Today's beer aficionado knows that a growler is the best way to carry your brew. This airtight, vacuum-insulated stainless steel jug from Stanley® will keep 64 ounces of your favorite beer cold up to 24 hours. Lighter weight than the old glass growlers, this design has a heavy duty handle that's easy to carry and pours smooth with one hand. |
Sherry
Sherry is back in style. From Andalucía, an area south of Seville, Spain, comes a fortified wine that dates back to the Roman Empire and that ranges from very dry to lusciously sweet, and food friendly. It is made from grapes you may be unfamiliar with: Palomino fino, Pedro Ximénez and moscatel. There are 2 main categories: fino is pale with fresh, nutty flavor is a fine aperitif or pairs with seafood; oloroso have more body and some citrus and can be matched with chicken; amontillado are in between. Pedro Ximénez is sweet like a tawny port and can hold up to chocolate or ice cream.
In brief, sherry starts out like other wines with grapes gathered when they are fully ripe, which is usually the end of August, and officially starts with the Fiesta de la Vendiamia. What makes Sherry unique is that after the must (juice) has been stored in butts in bodegas for fermentation, it is fortified with a spirit (usually a local brandy) which kills the yeast. The butts are then taken outside and opened to allow flowering--the development of a natural yeast film on the surface. After 12 to 18 months the butts are taken back inside and added to a solera, a system of butts of a particular style used over a number of years to keep the quality consistent. All Sherries are blended. Due to the addition of the spirit and evaporation, sherries will be higher in alcohol than normal table wines, often 17-20%. Pedro Ximénez is treated differently. The sweet grapes are left to dry until almost raisin-like. The must is added to butts with brandy and go into their own soleras.
Go to:
Add World-Luxury to your favorites