Fine European Dinnerware
Sophisticated dinnerware from modern to more traditional. Welcome to the most exciting selection of luxury tableware available anywhere. World famous names and patterns. Most dinnerware is also available in decorative serving pieces and individual replacement pieces. Go to: Ricci Argentieri, L'Objet, Versace by Rosenthal, Royal Crown Derby, Wedgwood, Italian Dinnerware, Waterford Crystal, Royal Copenhagen Porcelain
| | | |
| --- | --- | --- |
| | | |
| Haas Mojave Dinnerware | Alchimie Dinnerware Collection | Corde Dinnerware |
| Turn everyday entertaining into an extraordinary experience with the imaginative beauty of L'Objet Haas Mojave Dinnerware. Inspired by the unique landscape of Joshua Tree, the collection's intricate, organic patterning is reminiscent of pebbles on the desert floor and the endless stars in the night sky. Pieces are highlighted with 24k gold plate. | Bring an eye-catching touch to the table with this collection from L'Objet. A modern interpretation of Venice's timeless mélange of textures, color, and light, the Alchimie Gold collection is beautifully crafted from earthenware, then highlighted by a striking platinum or 24K gold finish | Crafted from Limoges porcelain and hand-painted with eye-catching details, this collection from L'Objet evokes timeless dining sophistication. |
| | | |
| --- | --- | --- |
| | | |
| Aegean Dinnerware | Aegean Dinnerware Collection | Perlee Gold Dinnerware |
| A delicately scalloped pattern inspired by the Aegean Sea's gentle waves details this fine porcelain dinnerware from L'Objet. | A delicately scalloped pattern inspired by the Aegean Sea's gentle waves details this fine porcelain dinnerware from L'Objet. | The refined beauty of natural pearls informed this elegant dinnerware from L'Objet. Vivid white Limoges porcelain is accented with hand-painted 24K gold details. |
| | | |
| --- | --- | --- |
| | | |
| Soie Tressee Black Dinnerware Collection | Alchimie Dinnerware Collection | L'Objet Soie Tressée Dinnerware |
| A modern expression of a timeless classic, this dinnerware collection is highlighted by a beautifully detailed braid trim. | A modern interpretation of Venice's timeless mélange of textures, color, and light, the Alchemie de Venise collection is beautifully crafted from earthenware, then highlighted by a striking black finish | Crafted of fine, vivid white porcelain, L'Objet's Soie Tressée collection offers a modern take on the classic braid motif. |
Arris Dinnerware
Wedgwood Nantucket Basket 5 Piece Place Setting
Wedgwood Nantucket Basket 16-Piece Dinnerware Set
Wedgwood Intaglio 16-Piece Dinnerware Set
Wedgwood Intaglio Dinnerware
Epitomizing the fusion of craftsmanship and design, Wedgwood's Arris collection of tableware and home décor makes a warm yet modern statement with crisp, geometric patterns and texture-rich ceramics.
A basket-weave motif pays homage to 19th Century Nantucket, Massachusetts in this Wedgwood dinnerware set. Mirroring the elegant basket work of the local craftsmen, this striking set brings a charming touch of elegance to the table.
Urban chic and elegance are the hallmarks of the new "Intaglio" collection from Wedgwood, yet drawing its design inspiration from the delicate embossing of the Georgian era, the fresh white color way is crisp, clean and contemporary. "Intaglio" highlights the traditional skills of knurling and engine turning, the arts of indenting designs in wet clay to give a distinctive tactile finish. The designs are unique across all the pieces and bring an intricate web of fresh but understated silhouette to the table
| | | |
| --- | --- | --- |
| | | |
| Hibiscus 4-Piece Place Setting | For Wedgwood "Renaissance Gold" | Hibiscus Dinnerware |
| Set includes: dinner plate, salad plate, soup/cereal bowl and mug Inspired by a Wedgwood archive pattern dating back to around 1810 Skillfully hand-lined in 22K gold. Bone china. Dishwasher safe | Embellished with intricate garlands, oval links and a fanciful dragon motif, this Wedgwood dinnerware evokes Europe's glorious Renaissance period. Rendered in deep blue and gold to transform any formal meal into a spectacular royal gala. Porcelain. Dishwasher safe. Salad Plate shown | Wedgwood's Hibiscus collection features a lavish blue botanical design inspired by an archival pattern dating back to 1810. Each piece is artfully hand-lined in 22K gold. |
Jasper Conran at Wedgwood Platinum Dinnerware
Wedgwood "Renaissance Gold"
Wedgewood Gio 4-Piece Place Setting
Wedgewood Gio 16-Piece Set Dinnerware Set
Jasper Conran continues to close the gap between formal dining and casual living. He accents the contemporary beauty of his already popular white bone china range with a touch of formality in the forum of a thin platinum band. To create an interplay of proportions, accent pieces including a plate, a charger, a small pitcher, mug, teacup and saucer, use thick platinum stripes to reinforce the pattern's look of sophisticated elegance.
Embellished with intricate garlands, oval links and a fanciful dragon motif, this Wedgwood dinnerware evokes Europe's glorious Renaissance period. Rendered in deep blue and gold to transform any formal meal into a spectacular royal gala.
A crisp palette is defined by subtle textured detail in this elegant dinnerware from Wedgwood.
| | | |
| --- | --- | --- |
| | | |
| Wedgwood Jasper Conran Strata 16-Piece Set | "English Lace" | Wedgwood White 16-Piece Set |
| Fine bone china. Dishwasher and microwave safe | Designed to capture the classic bride, "English Lace" features a delicate lace motif inspired by the finest English embroidery. A shiny platinum band on each piece adds to the sophistication of this pattern, while a classic Leigh shape footed teacup adds timeless elegance. | Set includes: four dinner plates, four salad plates, four soup/cereal bowls and four mugs. Features simple, elegant design details that have stood the test of time. Bone china. Dishwasher and microwave safe |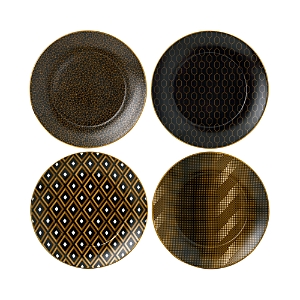 Wedgwood Arris Accent Tea Plate, Set of 4
Epitomizing the fusion of craftsmanship and design, Wedgwood's Arris collection makes a warm yet modern statement with crisp, geometric patterns and texture-rich ceramics.
Founded in 1978 by the late Gianni Versace, this Italian design house specializes in sizzling glamour. Gianni's sister, Donatella Versace, has designed the label since 1997, creating luxuriously sexy dresses and separates. The line also includes shoes and a range of fragrances.
| | | |
| --- | --- | --- |
| | | |
| Rosenthal Meets Versace Butterfly Garden Dinnerware | Medusa Red Dinnerware | I Love Baroque Dinnerware |
| Gianni Versace's artistic influence in the world of fashion was virtually unparalleled. His legacy is carried on and translated for the table in its marriage with Rosenthal. Versace by Rosenthal is an extraordinary collection resulting in high quality tableware and giftware in contemporary designs. An enchanting garden in soft pastel shades and an opulent diversity of blossoms, berries, insects and ornaments all combine to playfully symbolize a perfect summer symphony. | Gianni Versace's artistic influence in the world of fashion was virtually unparalleled. His legacy is carried on and translated for the table in its marriage with Rosenthal. Versace by Rosenthal is an extraordinary collection resulting in high quality tableware and giftware in contemporary designs. Elegant red, precious gold and black unite on the Medusa dinnerware, forming ingenious patterns worthy of the most opulent feast. | Highlighted by a dramatic scrolling motif, this dinnerware collection brings a regal touch of style to the table. |
| | | |
| --- | --- | --- |
| | | |
| Prestige Gala Dinnerware | Medusa Gala Dinnerware | La Scala del Palazzo Verde Dinnerware Collection |
| Bring an ornate note to the table with stunning 24K gold-detailed dinnerware by Rosenthal Meets Versace | The ancient myth of Medusa inspired this regal gold-detailed collection from Rosenthal Meets Versace. | This sophisticated collection features a refined architectural motif inspired by the majestic marble staircase of the Palazzo Versace, an undeniably regal addition to the dinner table. |
Since the 1700s, Royal Crown Derby has been creating classic designs that are both functional and collectible. Rich colors and intricate gilding remain the distinguishing features of its exquisite craftsmanship
| | | |
| --- | --- | --- |
| | | |
| Bristol Turquoise Dinnerware | Bristol Belle Orange Border Dinnerware | Darley Abbey Dinnerware |
| Bone china dinnerware. 22-kt. gold accents. Hand wash. Made in England. | Porcelain dinnerware. Dishwasher safe. | Perfectly round, this dinner plate is an ideal finishing touch for sophisticated dining. Capturing the regency style of restrained simplicity, the Darley Abbey collection is inspired by the 18th Century and uses delicate lines and intricate curves to entertain any occasion but especially for afternoon tea. |
| | | |
| --- | --- | --- |
| | | |
| Payton Dinnerware Collection | Felice Dinnerware Collection | Dahlia Dinnerware Collection |
| Bring a modern look to your tablescape with Ricci Argentieri Payton Dinnerware, trimmed with alternating black and white lines in various tones. Select from dining and serving pieces suitable for special occasions as well as everyday dining. | Ricci Argentieri's Felice dinnerware is suitable for special occasions, durable for everyday use. Porcelain. Dishwasher and microwave safe | Ricci Argentieri's elegant Dahlia dinnerware is suitable for special occasions, durable for everyday use. Porcelain. Dishwasher and microwave safe |
| | | |
| --- | --- | --- |
| | | |
| Carrara Dinnerware Collection | Carrara Dinnerware Collection | Carrara Dinnerware Collection |
| The combination of porcelain and noble Carrara marble-inspired drawing lends a very refined, geometric approach to this dinnerware collection, creating the illusion that each piece of the set is interchangeable. | The combination of porcelain and noble Carrara marble-inspired drawing lends a very refined, geometric approach to this dinnerware collection, creating the illusion that each piece of the set is interchangeable. | The combination of porcelain and noble Carrara marble-inspired drawing lends a very refined, geometric approach to this dinnerware collection, creating the illusion that each piece of the set is interchangeable. |
| | | |
| --- | --- | --- |
| | | |
| Lenox Westchester | Waterford Olann 5-Piece Place Setting | Waterford Lismore Lace 5-Piece Place Setting |
| An exquisite gold inlay makes this pattern sophisticated enough for an elegant banquet and inviting enough for a romantic soiree. | The distinct platinum-rim border and fine china of Waterford's Olann Dinnerware Collection exudes stately old-world elegance that seamlessly translates into an array of modern table settings—for an impressive and yet, understated statement | Featuring the renowned Waterford Lismore pattern and a graceful interpretation of Irish lacework, this dinnerware collection shines in fine platinum and pristine bone china |
| | | |
| --- | --- | --- |
| | | |
| Waterford Lismore Diamond 5-Piece Setting | Kilbarry Platinum Dinnerware Collection | Waterford Aras Dinnerware Collection |
| Set your table in nothing less than regal style with Waterford's Lismore Diamond dinnerware. Each piece is minimalist perfection trimmed in gilded detail, creating a look that elevates whatever is being served and making the entire set worthy of family-heirloom status. | Double bands of shimmering platinum surround each piece of the Kilbarry Platinum pattern. This fine bone china is both understated and modern. | The delicate water droplets featured on Waterford's Aras Dinnerware Collection are an homage to Ireland's beautiful lakes and rivers—a splash of nature brought right to your tabletop. |
| | | |
| --- | --- | --- |
| | | |
| Royal Copenhagen Blue Fluted Plain | Mega Dinnerware | Royal Copenhagen Blue Elements Dinnerware |
| Hand painted, the Blue Fluted Plain pattern is a part of Denmark's cultural heritage. To connoisseurs all over the world, it's synonymous with Danish porcelain. Blue Fluted Plain is Royal Copenhagen's number one service - in more ways than one. It was the first service to be made at the Royal Copenhagen Porcelain Manufactory when it first started in 1775. Blue fluted Plain Plain has been manufactured continuously for more than two centuries and remains the factory's most sought after service. | Pure white porcelain with delicately beautiful blue patterning. Dishwasher and microwave safe. | Showcasing a hand-painted blue-on-white floral pattern that's embellished with bold geometric motifs, Royal Copenhagen's Blue Elements dinnerware artfully embodies traditional style with a nod towards modernity. |
| | | |
| --- | --- | --- |
| | | |
| Royal Copenhagen White Fluted Half Lace Dinnerware | Royal Copenhagen Princess | Royal Copenhagen Blue Fluted Mega |
| A crisp white finish and elegant engraved details make this dinnerware a classic addition to your entertaining essentials. | The beautiful lace borders encircling every items of the "Princess" dinnerware series are decorated with mussels, revealing a close relationship with the fluted services. Both the actual pieces and the hand-painted pattern of this distinctive collection were designed by Arnold Krog in the 1880, when he was artistic director of Royal Copenhagen Porcelain Manufactory. This series, however, was not actually produced for practically another hundred years in 1978. | Blue Fluted Mega is the creation of young designer Karen Kjaelgaard Larsen. Her fresh ideas for transforming the age-old art of porcelain painting into an art form relevant in the 21st century has captured the attention of connoisseurs of fine porcelain worldwide. Blue Fluted Mega's hand-painted enlargements of a timeless design expand the boundaries between art, craft and design - creating the new definitions of form and function. |
| | |
| --- | --- |
| | |
| Royal Copenhagen HAV Dinnerware | Royal Copenhagen Blomst Dinnerware Collection |
| Named after the Danish word for ocean, Royal Copenhagen's HAV dinnerware combines a modern aesthetic with timeless materials in a porcelain collection that brings an organic, living tactility to dining. Delicate fish scale ornamentations stimulate the senses, while unique shapes, oceanic tones and metallic accents add a distinctive look of luxury. | Peonies, lilacs, dahlias and more bloom across Royal Copenhagen's porcelain collection of understated, modern dinnerware. |
Go to:

Add World-Luxury to your favorites