European Style Dresses and Skirts
European style dresses and skirts for the modern woman. Easy dressing for every occasion. Go to: Marimekko, Maeve Dresses, Capulet, Maeve Skirts, Bl-nk, FeatherBone, Intropia, J.O.A.
Founded by Armi Ratia in 1961, Marimekko is a play on words - an anagram of Armi's first name and "mekko," which means "dress" in Finnish. Whether it's on a purse or plate, Marimekko's use of print and color is world-renowned for its trend-setting, forward-thinking aesthetic.
| | | |
| --- | --- | --- |
| | | |
| Brindisi Striped Maxi Dress | Poppy Caftan Dress | Cremona Asymmetrical Dress |
| Whether you belt it or style it loosely, this striped maxi dress is a timeless piece for any closet. | Embrace summer's heat in this breezy caftan - the graphic poppies provide a refreshing floral print this season. | Here, the traditionally preppy striped dress is given a laid-back new look through an asymmetrical hem and slightly oversized silhouette. |
The name "Maeve" references a purple flower, a Greek goddess and a famously beautiful Irish warrior queen. In light of these inspirations, it's no surprise that their collection is structured yet delicate, a representation of beauty and strength at once. Each Maeve design is refined, flattering
| | | |
| --- | --- | --- |
| | | |
| Violette Dress | Cleary Dress | Corinna Jumpsuit |
| Viscose | This dress can easily be dressed both down and up, taking you from day to night – simply swap your chic sneakers for a pair of heeled sandals. | Creating a striking look that goes beyond a simple dress or two-piece combo, this all-in-one wonder can be dressed up with heels and a clutch or, for a more casual take, styled with sneakers. |
| | | |
| --- | --- | --- |
| | | |
| Abilene Maxi Dress | Nautical Shirtdress | Claremont Jumpsuit |
| Cotton, metallic thread; rayon lining. Crocheted, ruffled yoke | Reminiscent of Parisian style, this vertically striped shirtdress can easily be dressed up or down, depending on the accessories and occasion. | A printed jumpsuit is an all-in-one packing wonder - it frees up your carry-on and saves time spent outfitting. Simply add earrings and a clutch for an event-ready look. |
| | | |
| --- | --- | --- |
| | | |
| Penny Striped Dress | Embroidered Slip Dress | Ruched Wrap Dress |
| A combo of stripes defines your shape - you define the rest. | Our go-to for weddings and soirees this summer? A slimming slip dress with the embroidered details to match the mood of the season. | This wrap dress requires very little else to dress it up. Simply add espadrilles and a floppy hat and you're ready for seaside strolls and al fresco meals. |
Veteran design trio Giuseppe Valentini, Chris Berdine and Nik Apostolopoulos teamed up in 2001 to channel their expertise in fitted, sleek menswear styles into a collection of innovative, borrowed-from-the-boys designs for women. Their tailored yet feminine pieces are complete with thoughtful, effortlessly cool finishes, making them the favorite of fashionistas everywhere.
| | | |
| --- | --- | --- |
| | | |
| Josephine Wrapped Maxi Dress | Cluny Romper | Heather Ruffled Denim Jacket |
| Viscose, rayon; cotton lining | A favorite summer staple, the romper has the comfort of shorts and the styling ease of a dress. Finish with a denim jacket and sneakers or sandals for a breezy day out. | Featuring ruffled cuffs, this classic denim jacket is a must-have for any season. |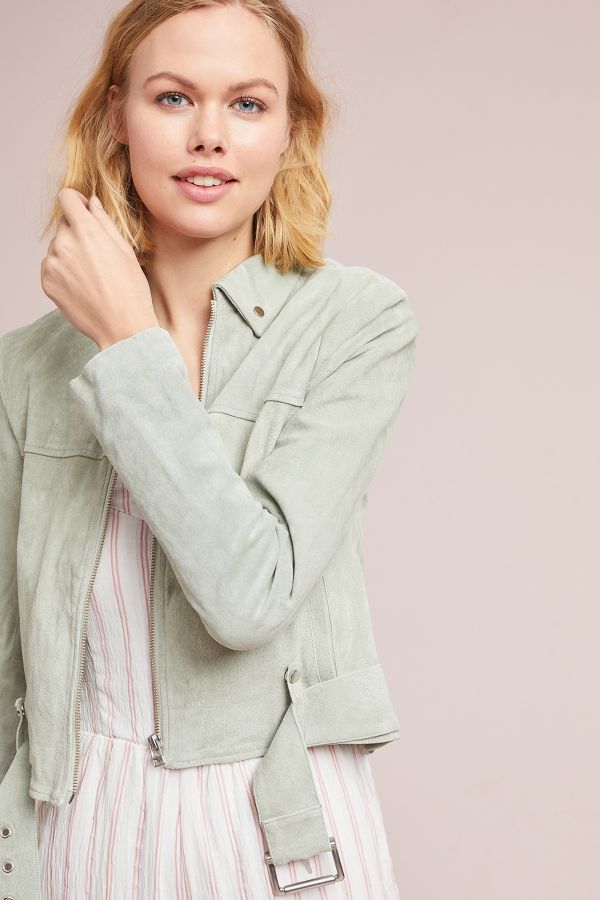 Capulet Marta Leather Jacket
Crafted from buttery leather in a warm-weather-ready neutral hue, this clean-lined jacket adds a contemporary edge to any ensemble.
Previously branded as Hoss Intropia, this Spanish label takes inspiration from the Mediterranean lifestyle. Through vibrant color, breathable texture and a relaxed, effortless approach to style, each design's inherent femininity serves to enhance the wearer's own personal style, whether she's dressing for an elegant event or traveling to the farthest corners of the world.
From its modest beginnings as a small accessories label, Shoreditch-based Bl-nk has evolved into one of the UK's most well-known brands. Its luxe bohemian aesthetic is evidenced in its attention to both contemporary and traditional details, from textural elements to intricate beadwork.
| | | |
| --- | --- | --- |
| | | |
| Ottoline Skirt | Retro Flounced Skirt | Riviera Skirt |
| Style this lace skirt with a tucked-in cami and heeled sandals for an elevated look. | With a nod to the classics, this skirt features a polka dot print and a flounced hem for closet longevity. | This lightweight, linen skirt is an endlessly versatile warm-weather layer - pair it with your favorite blouse, or over your swimwear for beach-to-brunch style. |
Go to:
Add World-Luxury to your favorites