European Style Dresses and Skirts
European style dresses and skirts for the modern woman. Easy dressing for every occasion. Go to: Ottod'Ame, Maeve Dresses, MiH, Maeve Skirts, Blank, NIC+ZOE
Three Graces London
Three Graces London creates multifunctional pieces with dreamlike sophistication that bring elements of after-dark dressing into a romantic daytime wardrobe. Each timeless silhouette is sourced from European ateliers and crafted from the highest quality handmade cotton, linen, lace and silk – and invites you to break the confines of traditional dressing.
| | | |
| --- | --- | --- |
| | | |
| Prairieland Ruffle Dress | Athena Deep-V Dress | Cassius Maxi Dress |
| This ruffled cotton number drifts effortlessly from beachside to bedroom. | This ethereal, timeless piece is cut from semi-sheer cotton with a looped shoulder detail and dramatic deep-v neckline. | Here, striped cotton voile drapes into a statuesque silhouette, finished with an alluring open-back and flounced hem. |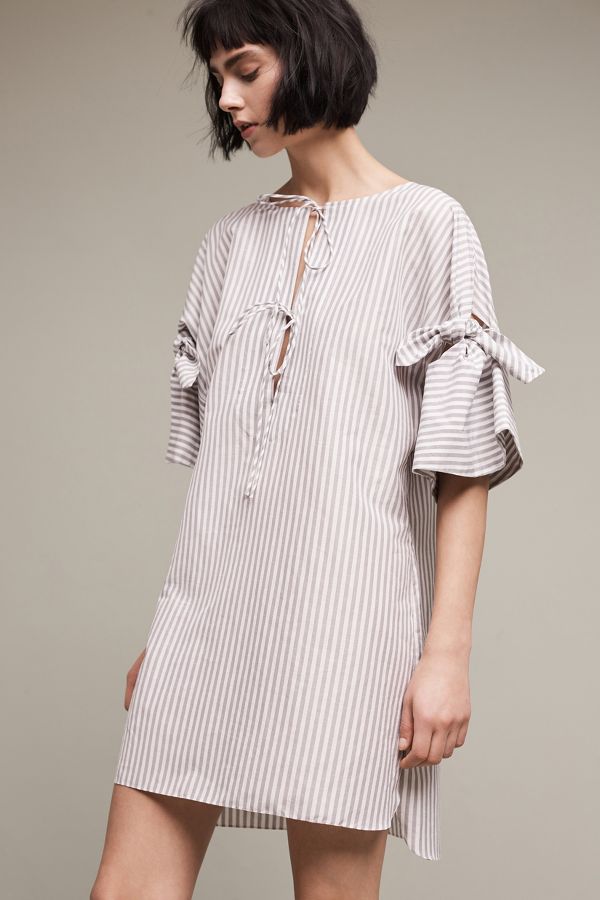 Cephale Tunic Dress
This breezy tunic dress was designed with brunch-to-beachside versatility and made using the finest European cotton.
Ottod'Ame, meaning eight women, evokes the power of femininity through their innovative use of texture and print. Each silhouette is designed to inspire the woman who wears it, helping her discover her own personal style and express her unique, confident self. Italy
Grecia Ruffle Dress
Jamie Wide-Leg Jumpsuit
Ruffled Shorts,


Ruffled Wrap Top
Viscose. Hanky hem
Rayon, spandex; rayon lining
Rayon
Londoner Chloe Lonsdale was born into a world of indigo – her parents, designing under the label Made in Heaven, were the purveyors of wildly popular 70s flares. In 2006, Chloe re-launched the brand as M.i.h. and made an instant, immediate impact with her unpretentious, assured silhouettes. Since then, the label has evolved into a contemporary ready-to-wear collection with a retro-inspired spin, and is beloved by denim lovers worldwide
| | | |
| --- | --- | --- |
| | | |
| MiH Luna Denim Shift | Patchwork Marten Dress | Turo Skirt |
| With its vintage-inspired embroidery and timelessly feminine silhouette, this short-sleeved shift makes a sweet statement wherever it's worn. From London-based denim tastemakers MiH. | Suede is collaged with a variety of premium denims to bring a luxe, Western-inspired touch to a classic v-neck silhouette. From London-based denim tastemakers MiH. | An effortlessly polished, striped silk top is sure to turn heads. From London-based denim tastemakers MiH. This patched-denim skirt has a flattering mid-rise silhouette and an of-the-moment raw hem. From London-based denim tastemakers MiH. |
| | | |
| --- | --- | --- |
| | | |
| Caron Cropped Wide-Legs | Kalle Suede Mini Skirt | Hart Striped Silk Jumpsuit |
| This on-trend, ankle-skimming pair in a bold hue has effortless desk-to-dinner appeal. | Crafted of supple, colorful suede, this 70s-inspired mini skirt proves patchwork can be polished. | Slimming vertical stripes - printed on light, luxurious silk - make this cropped, v-neck jumpsuit an eye-catching choice for every occasion. From London-based tastemakers MiH. |
A knitwear designer for more than 20 years, Dorian Lightbrown stepped out with a visionary approach to start her own company in 2005. NIC+ZOE was fondly named after her children. With her expertise in both knits and wovens, the NIC+ZOE line delivers a uniquely colored collection including sweaters, skirts, jackets, tops, dresses and pants. Extensive travel to Shanghai and Italy inspires Dorian to reinvent knitwear each season
| | | |
| --- | --- | --- |
| | | |
| Daybreak Linen-Blend Cardigan; Rain Drops Twirl Dress | NIC+ZOE Perfect Jersey Scoop-Neck Tank | Fiore Sleeveless Printed Twirl Dress, Multi |
| NIC+ZOE "Daybreak" cardigan in semisheer knit with ribbed panels. Open front. NIC+ZOE "Rain Drops" twirl dress in crinkled linen blend with colorblocked floral print. Approx. length: 32"L from shoulder to hem. | Nic+Zoe tank top in signature Perfect-knit jersey—a must-have, year-round layering piece. Approx. length: 17.5"L from shoulder to hem, 18"L down center back. Scoop neckline. Sleeveless; thin straps. Relaxed fit. | NIC+ZOE "Fiore" twirl dress in mixed-print stretch cotton. High jewel neckline. Sleeveless; cut-in shoulders. Fit-and-flare silhouette. Hem hits at the knee. |
In 1999, while earning her masters in philosophy at the Royal College of Art, Diana Irani launched her line of cutting-edge, intricately handcrafted accessories and apparel. To allow her line to speak for itself, she named it Blank.
Go to:
Add World-Luxury to your favorites