European Fashion Designers
European fashion for polished looks every day of the week. Add flexibility to your wardrobe with easy pieces that dress up or down to suit your plans and mood. Fashion right colors. Flattering silhouettes. Go to: Aldomartins, Scotch & Soda, Pilcro and the Letterpress
In 1975, designer Marti Bisbal founded Aldomartins, a luxury brand specializing in womenswear with a chic, cosmopolitan edge. Designed and made in Spain, his impeccably tailored garments are distinctly European, featuring bold prints and the finest materials.
| | | |
| --- | --- | --- |
| | | |
| Leanna Crocheted Sweater Tee | Tasha Crocheted Sweater Tank | Simone Floral Cardigan |
| This sweater tee's crocheted trim ensures it will be a wardrobe staple as the weather warms. | This sweater tank's crocheted trim ensures it will be a wardrobe staple as the weather warms. | Crafted in a kimono-inspired silhouette with a bold floral motif and a soft-knit finish, this cardigan is the perfect springtime topper for a tee and jeans, sweeping maxi dresses, and everything in between. |
In a refurbished church along the canals of Amsterdam, the creatives at Scotch & Soda share the latest poems, artifacts and treasures that have sparked their imaginations. Inspired by worldly wonders, each global collection fuses unexpected patterns with classic textiles, resulting in the brand's signature era-mixing style.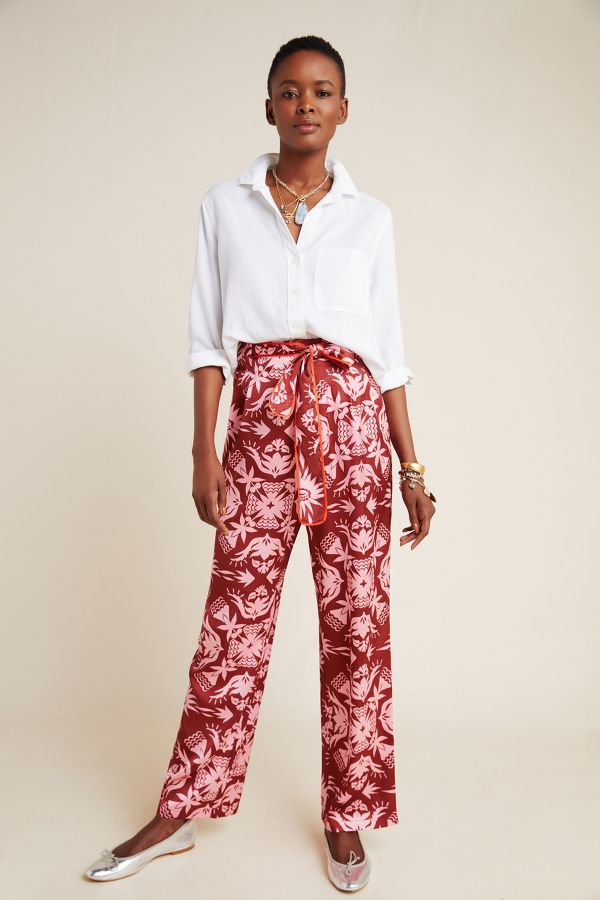 Scotch & Soda Veda Wide-Leg Pants
An eye-catching abstract motif makes these breezy wide-legs a styling essential - pair them with crisp white sneakers and a textured top for an easygoing ensemble that's sure to earn you compliments.
Pilcro and the Letterpress offers endless possibilities for everyday outfitting. We've elevated the essentials with an expansive array of made-for-you finishes, allowing you to choose the rise, length and rinse that best flatters your figure and suits your style. Whether you're looking for something sleek and skinny to take you from desk to dinner or something relaxed and distressed for weekend wear, we've got you covered - we know you'll find the perfect pair.
| | | |
| --- | --- | --- |
| | | |
| Francoise Overall Skirt | Pilcro Cora Denim Jacket | Pilcro Amora Ruffled Mini Skirt |
| This breezy overall skirt pairs perfectly with a go-to graphic tee and sneakers - it's a laidback look we love for strolls through the park, summer picnics, and more. | A timeless closet staple for a reason, this denim jacket tops off any ensemble with ease. | Pair this mini skirt with a knit tank or graphic tee for an everyday look that's both playful and poised. |
| | | |
| --- | --- | --- |
| | | |
| The Mila Draped Buttondown | Pilcro Ultra High-Rise Slim Straight Jeans | Pilcro Ultra High-Rise Pleated Relaxed Jeans |
| The Mila offers a laidback fit that's perfect for everything from lounging on the couch to leisurely walks through the neighborhood. Tuck its draped silhouette into high-rise denim for a polished feel, or offset its feminine touches with a pair of easygoing utility joggers. | This leg-lengthening pair is fitted through the hip and thigh for an essential silhouette. | When it comes to laidback comfort, these relaxed jeans reign supreme - just add your favorite graphic tee and sneakers. |
| | | |
| --- | --- | --- |
| | | |
| Pilcro Embroidered Ultra High-Rise Slim Straight Jeans | Pilcro Ultra High-Rise Dip-Dyed Slim Jeans | The Bette Babydoll Blouse |
| This high-rise pair features eye-catching embroidery for a charming, well-loved finish | This cropped pair features a dip-dyed finish for a modern touch, styling effortlessly with graphic tees, buttondowns, and blouses alike. | Rendered in rich, spring-ready hues, the Bette offers an easygoing yet oh-so-poised twist on classic feminine style. Consider pairing its dainty aesthetic with utility joggers and strappy sandals or flats - it's a relaxed, playful look we love to sport for sunny strolls and family picnics. |
| | | |
| --- | --- | --- |
| | | |
| The Bette Babydoll Blouse | The Bella Femme Buttondown | The Serena Surf Henley Blouse |
| Rendered in rich, spring-ready hues, the Bette offers an easygoing yet oh-so-poised twist on classic feminine style. Consider pairing its dainty aesthetic with utility joggers and strappy sandals or flats - it's a relaxed, playful look we love to sport for sunny strolls and family picnics. | Featuring au courant puffed sleeves and an elegantly embroidered finish, The Bella puts a feminine twist on the classic buttondown silhouette. Style this soft-to-the-touch essential with a pencil skirt or a pair of tapered trousers to let its dainty details shine. | From morning brunches to afternoons spent shoreside, the Serena blouse is a sweetly polished staple. Featuring ladder lace details for a dainty twist, its Henley-style fit pairs perfectly with denim shorts and crisp white sneakers. |
| | | |
| --- | --- | --- |
| | | |
| The Cate Classic Tie-Dyed Buttondown | Pilcro High-Rise Slim Boyfriend Denim Shorts | Pilcro High-Rise Striped Acid Wash Straight Jeans |
| No wardrobe is complete without the effortless polish of a classic buttondown. The Cate offers style and versatility in one streamlined silhouette, pairing with everything from pencil skirts to distressed denim. | Style these denim shorts with a billowing blouse or a lightweight knit for relaxed summer days. | Featuring an acid-washed finish for a nod to the '90s, these striped straight jeans offer a fresh twist on your favorite pair - try outfitting them with a crisp white buttondown and flats for a chic yet fashion-forward ensemble. |
| | | |
| --- | --- | --- |
| | | |
| The Whitney Embroidered Trapeze Buttondown | Pilcro Ultra High-Rise Button-Fly Slim Straight Jeans | The Whitney Trapeze Buttondown |
| Featuring a crisp, relaxed fit, the Whitney is tailored with an eye to flexible, fashion-forward outfitting. Best of all? Its breezy silhouette both tucks easily and wears effortlessly, lending a polished twist to breezy midi skirts and high-rise denim. | A high waist and an exposed button fly make this pair an easygoing complement to billowy sweaters, peasant blouses, and more. | Featuring a crisp, relaxed fit, the Whitney is tailored with an eye to flexible, fashion-forward outfitting. Best of all? Its breezy silhouette both tucks easily and wears effortlessly, lending a polished twist to breezy midi skirts and high-rise denim. |
| | | |
| --- | --- | --- |
| | | |
| The Whitney Embroidered Trapeze Buttondown | Pilcro High-Rise Slim Boyfriend Denim Shorts | Pilcro High-Rise Denim Leggings |
| Featuring a crisp, relaxed fit, the Whitney is tailored with an eye to flexible, fashion-forward outfitting. Best of all? Its breezy silhouette both tucks easily and wears effortlessly, lending a polished twist to breezy midi skirts and high-rise denim. | Style these slim denim shorts with a graphic tee and sneakers for relaxed days, or add a billowing blouse and ankle boots for a more elevated ensemble. | Featuring a body-hugging fit that tapers through to the ankle, skinny denim leggings are a staple for the modern wardrobe. Whether tucked into boots or styled with sandals, this flattering silhouette is a classic go-to, any day of the week. |
| | | |
| --- | --- | --- |
| | | |
| The Serena Surf Henley Blouse | Pilcro Classic Denim Jacket | Pilcro Ultra High-Rise Slim Straight Jeans |
| From morning brunches to afternoons spent shoreside, the Serena blouse is a sweetly polished staple. Featuring ladder lace details for a dainty twist, its henley-style fit pairs perfectly with denim shorts and crisp white sneakers. | A timeless closet staple for a reason, this denim jacket tops off any ensemble with ease. Layer it over a dress or a romper for a breezy day out, or pair it with your favorite jeans in a contrasting wash for a cool head-to-toe denim look we love. | Designed by Moglea in collaboration with Anthropologie, this slim, straight pair features painterly accents for a dash of elevated flair. |
Go to:
Add World-Luxury to your favorites