European Fashion Designers
European fashion for polished looks every day of the week. Add flexibility to your wardrobe with easy pieces that dress up or down to suit your plans and mood. Fashion right colors. Flattering silhouettes. Go to: Aldomartins, Hayley Menzies, Scotch & Soda, Jackets and Blazers, ett:twa
In 1975, designer Marti Bisbal founded Aldomartins, a luxury brand specializing in womenswear with a chic, cosmopolitan edge. Designed and made in Spain, his impeccably tailored garments are distinctly European, featuring bold prints and the finest materials.
| | | |
| --- | --- | --- |
| | | |
| Ellis Top | Contrast Top | Alice Striped Knit Dress |
| 52%cotton 32% polyester 11% acrylic, 5% polyester | 100% cotton | Bring some statement-making color to your seasonal dressing with this textured knit dress - it's a cozy workwear essential that transitions well into spring. |
As a child, Hayley Menzies loved creating clothes and costumes on her old Singer sewing machine, a hobby that turned into a successful, fulfilling career : after attending The London College of Fashion, she launched her eponymous brand in 2011. Combining a signature British elegance with vintage references and a dash of eclecticism, Menzies shows a fearlessness when it comes to color and print, for one-of-a-kind knits you'??ll look forward to wearing every year.
| | | |
| --- | --- | --- |
| | | |
| Leopardess Knit Duster | Leopardess Silk Dress | Leopardess Knit Cardigan |
| Knitted using a signature jacquard technique and high-quality Italian cotton, this duster is playfully printed with prowling leopards, protective eyes, and tropical palm trees. | Featuring prowling leopards, this sundress is crafted from silk crepe de chine for a luxe, occasion-worthy statement. | Made from high-quality, Italian cotton. this soft cardigan features prowling leopards and protective eyes. |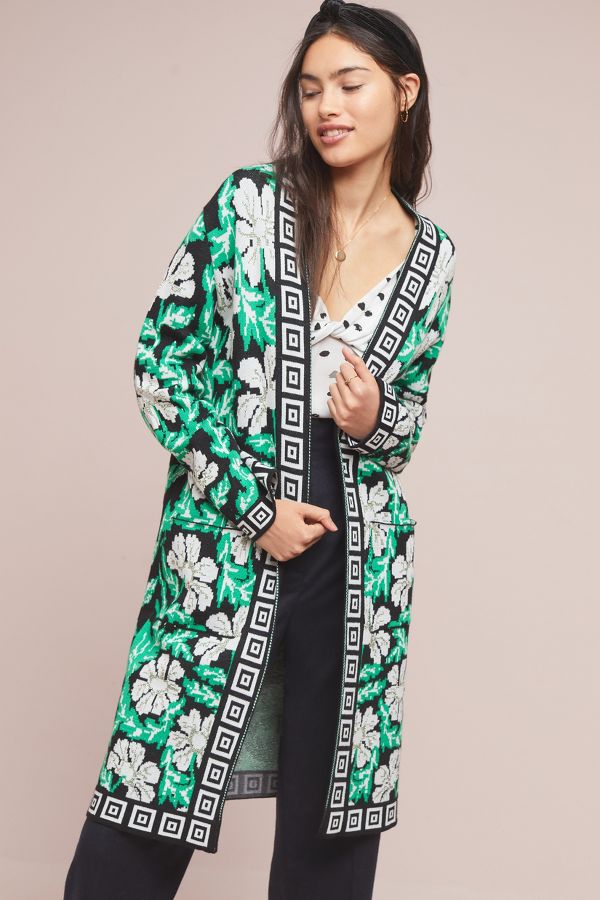 Soraya Midi Cardigan
Inspired by traditional block-printing, this knit cardigan features a bold floral print and geometric border that's sure to turn heads.
In a refurbished church along the canals of Amsterdam, the creatives at Scotch & Soda share the latest poems, artifacts and treasures that have sparked their imaginations. Inspired by worldly wonders, each global collection fuses unexpected patterns with classic textiles, resulting in the brand's signature era-mixing style.
| | | |
| --- | --- | --- |
| | | |
| Palm Tree Tee | Palm Cove Shorts | Marloe Wide-Leg Shorts |
| This spring, swap your florals for palm trees via this tee - it styles well with structured skirts and relaxed denim alike. | Summer arrives early via these colorful, belted shorts. | 97% cotton, 3% elastane |
| | | |
| --- | --- | --- |
| | | |
| Cascade Knit Cami | Varsity Striped Cardigan | Spring Wide-Leg Pants |
| Polyester, viscose, elastane | The striped sleeves gives this soft-knit cardigan a sporty detail - it's a layer that balances the femininity of a skirt or dress. | With a contrasting striped detail, these spring-ready wide legs give a welcomed pop of color to your work wardrobe. |
| | | |
| --- | --- | --- |
| | | |
| Cathy Structured Jumpsuit | Blake Metallic Top | Tessa Metallic Cami |
| Creating a striking look that goes beyond a simple dress or two-piece combo, this all-in-one wonder can be dressed up for the office - just add heels. | A high-shine, metallic party top looks as lovely under a businesslike blazer as it does paired with jeans. | With a luxe metallic finish, this cami has glamour to spare. |
| | | |
| --- | --- | --- |
| | | |
| Sedona Jumpsuit | Margaret Belted Jumpsuit | Harley Faux Suede Trench |
| Bringing back every flattering element that made this jumpsuit a favorite last year, we added fun hues that suit spring and summer. | Premiering this spring: effortless jumpsuits with comfort to spare. | From its suede-like finish to its unexpected hue, this classic outerwear favorite is all about the on-trend details. |
| | | |
| --- | --- | --- |
| | | |
| Bateau Sweater Shrug | Bateau Sweater Tank | Cecily Off-The-Shoulder Sweater |
| Shrug off the winter blues in this perfectly cozy topper. | For the perfect transitional piece, look no further than the sweater tank - this sleeveless knit styles well with everything in your closet, from weekend denim to polished pencil skirts. | Dare to bare a little shoulder this season while staying toasty warm in this cozy sweater. |
| | | |
| --- | --- | --- |
| | | |
| Bartlett Romper | Fosters Leather Jacket | Railroad Striped Shorts |
| A favorite warm-weather staple, the romper has the comfort of shorts and the styling ease of a dress. Finish with sandals and a floppy hat for a breezy, vacation look. | The contrast between a sweet shift dress or lovely lace blouse and a tough motorcycle jacket is always, effortlessly on trend. | 99% cotton, 1% spandex |
| | | |
| --- | --- | --- |
| | | |
| Levi's Ex-Boyfriend Denim Trucker Jacket | Elle Trench Coat | Vaway Reversible Anorak |
| In 1967, Levi's coined the term "trucker" for their oversized, extra-relaxed denim jacket. Recognizable for diagonal seams that form a narrow, inverted triangle below each breast pocket, this iconic layer feels fresh when styled with a floaty frock. | The classic trench takes an unexpected - and surprisingly cheerful - turn with this red rendition. | A reversible jacket is essentially two outerwear pieces in one, allowing you to tailor your topper to match your outfit. |
| | | |
| --- | --- | --- |
| | | |
| Piped Trucker Jacket | Blousant Bomber Jacket | Edisto Blazer |
| In 1967, Levi's coined the term "trucker" for their oversized, extra-relaxed denim jacket. Here, the iconic silhouette gets a feminine update through a floral-printed piping. | In a classic neutral, this bomber jacket is a flattering way to keep warm on summer nights. | Whether you style this lightweight blazer with its matching pair of shorts or your favorite chinos, this tailored topper is the perfect way to upgrade your seaside style |
| | | |
| --- | --- | --- |
| | | |
| Citizens of Humanity Dillon Denim Jacket | Neopolitan Colorblocked Jacket | Levi's Ex-Boyfriend Denim Trucker Jacket |
| In a classic white wash, this denim jacket makes a stylish statement for any season. | Inspired by the abstract, geometric work of Dutch painter Piet Mondrian, Yves St. Laurent introduced sartorial colorblocking with his iconic Mondrian Collection. Today, the trend extends beyond neutrals and primary colors to an infinite array of bold combinations - like the soft pink and forest green seen on this hooded jacket. | In 1967, Levi's coined the term "trucker" for their oversized, extra-relaxed denim jacket. Recognizable for diagonal seams that form a narrow, inverted triangle below each breast pocket, this iconic layer feels fresh when styled with a floaty frock. |
| | | |
| --- | --- | --- |
| | | |
| Classic Eyelet Jacket | Vinin Blazer | Longline Anorak |
| A romantic summer staple, eyelet lace lends an effortlessly feminine touch to this jacket. | A tried-and-true wardrobe staple, the blazer reigns supreme when it comes to professional power dressing. | Introduced in the 1940s by the U.S. Army for its durability, the utilitarian anorak is as chic it is practical, making it an everyday essential come rain or shine. |
| | | |
| --- | --- | --- |
| | | |
| Expressway Moto Jacket | Petal Trench Coat | Pilcro Denim Trucker Jacket |
| When rendered in a suede-like fabrication, the edgy motorcycle jacket is given a softer look. | The classic trench takes an unexpected - and surprisingly soft - turn with this flowing, rosy rendition. | In a classic indigo, this trucker jacket makes a stylish statement for any season |
| | | |
| --- | --- | --- |
| | | |
| Savant Cropped Jacket | Double-Breasted Knit Jacket | MOTHER The Pitter Patter Raincoat |
| When it comes to commuting, layering is essential. This versatile jacket will work overtime in your closet, effortlessly topping everything you already own. | With the softness of your favorite sweater and the polish of a jacket, this double-breasted knit goes from boardroom to restaurant with ease. | In a cheerful pink hue, this sleek, semi-sheer raincoat chases away cloudy days in style |
| | | |
| --- | --- | --- |
| | | |
| Chesterton Trench Coat | Delores Draped Jacket | Gingham-Lined Trench Coat |
| In a cheerful yellow hue, this trench coat will chase away rainy days. | Featuring a draped front that softens any outfit, this lightweight jacket is the perfect warm-weather jacket. | The classic trench takes an unexpected - and surprisingly fun - turn with this gingham-lined rendition. |
| | | |
| --- | --- | --- |
| | | |
| Cadet Belted Jacket | Seaboard Blazer | Velvet-Trimmed Blazer |
| When it comes to commuting, layering is essential. This versatile jacket will work overtime in your closet, effortlessly topping everything you already own. | Whether you style this lightweight blazer with its matching pair of shorts or your favorite chinos, this tailored topper is the perfect way to upgrade your seaside style. | A tried-and-true wardrobe staple, the blazer reigns supreme when it comes to professional power dressing. |
| | | |
| --- | --- | --- |
| | | |
| Sherbrooke Sherpa Jacket | Gisborne Anorak | Snowfall Sherpa Jacket |
| When it comes to cool-weather coziness and model-off-duty style, there's nothing better than a Sherpa jacket. Mimicking the look and feel of warm, textural wool, this layer keeps you chic and comfortable as the temperatures chill. | The perfect layer for the new season, this utilitarian anorak boasts effortless style. | When it comes to cool-weather coziness and model-off-duty style, there'??s nothing better than a Sherpa jacket. Mimicking the look and feel of warm, textural wool, this layer keeps you chic and comfortable as the temperatures chill. |
| | | |
| --- | --- | --- |
| | | |
| Kerwin Blazer | Amanda Camo Parka | Everyday Belted Moto Jacket |
| When it comes to commuting, layering is essential. This versatile blazer will work overtime in your closet, effortlessly topping everything you already own. | Featuring a modern take on the centuries-old camo jacket, this luxe, faux-fur-trimmed version is a surprisingly versatile piece you'll want to wear with everything. | The contrast between a sweet shift dress or lovely lace blouse and a tough motorcycle jacket is always, effortlessly on trend. |
| | | |
| --- | --- | --- |
| | | |
| Patched Faux Fur Jacket | Canyon Parka Coat | Inari Sherpa Coat |
| A faux fur coat adds a touch of glam and a whole lot of texture to any cold-weather look. | This faux-fur-trimmed parka will fight off the cold without dulling your style. | When it comes to cool-weather coziness and model-off-duty style, there's nothing better than a sherpa jacket. Mimicking the look and feel of warm, textural wool, this textured layer keeps you chic and comfortable as the temperatures chill. |
Go to:
Add World-Luxury to your favorites