Easy Weekend Wear
Easy weekend wear. Loungewear and easy pieces for relaxed weekends. See the newest styles from: Greylin Moon River, Harlyn, Blue Tassel, RD Style, Sancia, Dolan Left Coast, Current Air, Cupcakes and Cashmere, Of Handmade
Even at a young age, Dora Lim felt at home in the world of design. After her parents started a manufacturing business, Lim quickly became fascinated by the art of making clothes and spent hours on the production floor observing the designers and seamstresses at work. Years later, she graduated from the Fashion Institute of Design and Merchandising in Los Angeles and launched her own line, Greylin. Each tailored, timeless garment showcases Lim's lifelong passion for clothing and design.
| | | |
| --- | --- | --- |
| | | |
| Amber V-Neck Pullover | Livie Denim Trucker Jacket | Ronda Utility Shirt Jacket |
| This comfy pullover features bell sleeves for a vintage-inspired finish, bringing a stylish touch to cargo pants, denim, mini skirts, and more. | A structured fit and contrast stitching lend this trucker jacket a modern edge. | The perfect layer for the new season, this utilitarian jacket boasts effortless style. |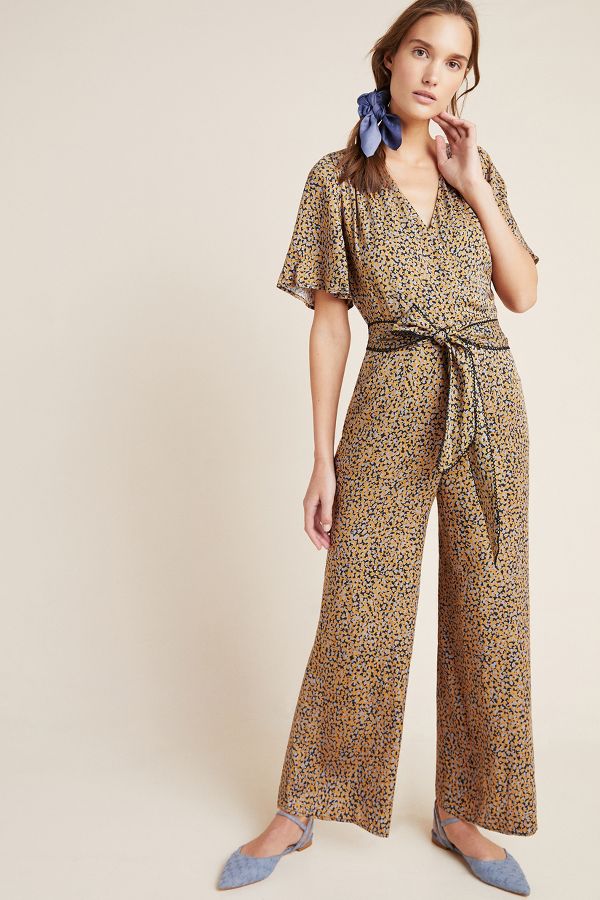 Galena Wide-Leg Jumpsuit
Creating a striking look that goes beyond a simple dress or two-piece combo, this all-in-one wonder can be dressed up with heels and a clutch or, for a more casual take, styled with sneakers.
Based in Los Angeles and named for a song written specifically for Audrey Hepburn, Moon River offers sensible style for the free-spirited woman. Clean and natural with a vintage-inspired aesthetic, each feminine, detailed, and timeless silhouette brings versatility and personality to your closet.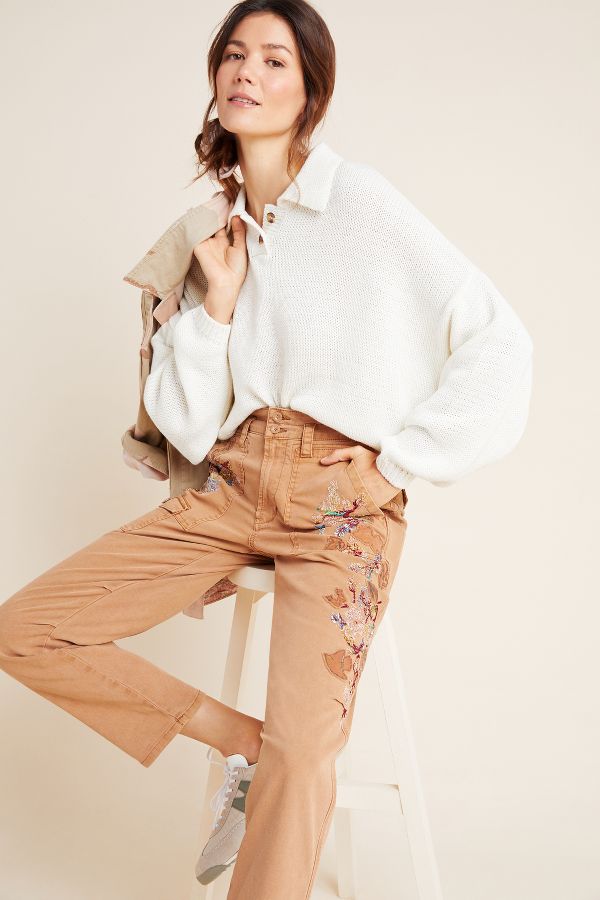 Evelyn Collared Sweater
With coziness to spare, this collared sweater lends an elevated touch to tailored trousers and denim.
Famed for their etched leather handbags, the Australian brand Sancia expanded in 2017 to the world of apparel. Lending a boho-minimalist aesthetic to everything from peasant tops to skirts and jumpsuits, the brand taps into the very sentiment of stylish summer adventuring, through a palette of warm hues and classic, nautically inspired stripes.
Dolan is the eponymous label of designer Jodie Dolan. Imbued with the laidback, effortlessly sexy vibe of her Los Angeles home base, Dolan's clothes are simple, original and confident.
| | | |
| --- | --- | --- |
| | | |
| Amy Shimmer Blouse | Ribbed Mock Neck Tank | Batia Smocked Mini Skirt |
| With a luxe metallic finish, this top has glamour to spare | We love styling this knit tank with wide-leg pants or a stunning fit-to-flare skirt - its mock neck and colorblocked finish make it an instant wardrobe classic. | Shimmery and sweet, this smocked mini skirt puts a playful spin on occasion-ready styling. |
| | | |
| --- | --- | --- |
| | | |
| Sereia Pleated Midi Dress | Piper Utility Jumpsuit | Justine Blouse |
| From fluttery sleeves to precious pleats, this midi dress offers dreamy detail in every stitch. | Whether styled with sneakers or flats, this leopard-printed jumpsuit brings a touch of fierceness and polish to everyday outfitting. | A wrapped silhouette infuses this blouse with an air of breezy polish. |
| | | |
| --- | --- | --- |
| | | |
| Mariette Pleated Swing Blouse | Saffron Snake-Printed Jumpsuit | Clea Wide-Leg Jumpsuit |
| Featuring pleated details for an elevated twist, this swingy blouse pairs perfectly with your favorite fitted denim. | With a striking snake-printed finish, this jumpsuit is our favorite to sport with slip-on sneakers or flats | When placed against a darker, moodier backdrop, a traditional floral motif goes from sweet and lighthearted to dramatic and romantic |
| | | |
| --- | --- | --- |
| | | |
| Tomasa Knit Tank | Poppy Mini Dress | Lucia Shimmer Midi Dress |
| This softly stitched tank is a lightweight layering essential - pair it with cropped trousers, denim, or an A-line skirt for a polished ensemble. | Featuring sweetly smocked details and a dainty mini silhouette, this dress pairs effortlessly with kitten heels and a clutch. | Featuring sweetly smocked details and a shimmery floral finish, this midi dress pairs effortlessly with kitten heels and a clutch. |
| | | |
| --- | --- | --- |
| | | |
| Lorelei Sheer Blouse | Rafia Plisse Top | Lela Snake-Printed Pants |
| Sheer polyester | Ruffled sleeves and a subtly textured finish make this top a wardrobe staple - pair it with tailored trousers for a day at the office, or style it with slim-fit denim for a night on the town. | We love snake print for its quintessential rock 'n' roll feel and its ability to make a serious statement while remaining decidedly neutral. From classic brown to exotic greens and yellows, the serpentine pattern looks best when paired with a contrasting texture - think faux fur or denim. |
Blogger Emily Schuman founded Cupcakes and Cashmere to document her favorite things: clothing, food, and family. Embraced by fashionistas and foodies the world over, the blog has since evolved into an internationally renowned lifestyle brand. Inspired by Schuman's feminine style, her clothing collection is sophisticated, yet effortless - perfect for the on-the-go woman.
Harlyn's silhouettes appeal to the understated femininity of the modern woman, while embracing a charming quirkiness that emboldens individual style. Sure to make a statement, each piece is designed for the free of spirit and is easily outfitted for any adventure.
| | | |
| --- | --- | --- |
| | | |
| Mattie Lace Top | Semele Pleated Midi Skirt | Angie Ruffled Buttondown |
| This lacy top delivers sophistication and style in one versatile silhouette. | Polished pleats and a shimmery finish make this midi skirt a staple. | Whether paired with relaxed denim or a preppy skirt and sandals, this ruffled buttondown elevates any outfit with ease. |
| | |
| --- | --- |
| | |
| Avignon Babydoll Blouse | Vittorina Eyelet Blouse |
| In a timelessly feminine silhouette, this blouse lends a romantic touch to any ensemble. | Eyelet details and dainty puffed sleeves make this blouse a sophisticated staple - pair it with high-rise denim and flats for an oh-so-polished ensemble |
Founded by Simona Guaini in 2006, Of Handmade began as an accessories collection specializing in hats, mittens, and scarves. From these humble beginnings, the label has since evolved into a full knitwear line, featuring styles hand-stitched in Italy by women with expertise in traditional knitwork and crochet techniques.
| | |
| --- | --- |
| | |
| Ludovica Crochet Tank | Acadia Crochet Sweater Tank |
| Stitched by hand in Italy, this crochet sweater tank lends springtime ensembles a sumptuously detailed touch. | Stitched by hand in Italy, this crochet sweater tank lends springtime ensembles a sumptuously detailed touch. |
Go to:
Add World-Luxury to your favorites