Separates for Flexible Style
European style clothes expand your wardrobe with easy dressing options. Go to: Current Air, OOF, Maeve, Tops

Cecilia Prado
With each striking silhouette, Cecilia Prado embraces femininity and texture through her unique approach to design. Using bold, statement fabrics in an array of flattering patterns, each garment infuses a contemporary design with traditional elements for a timeless look.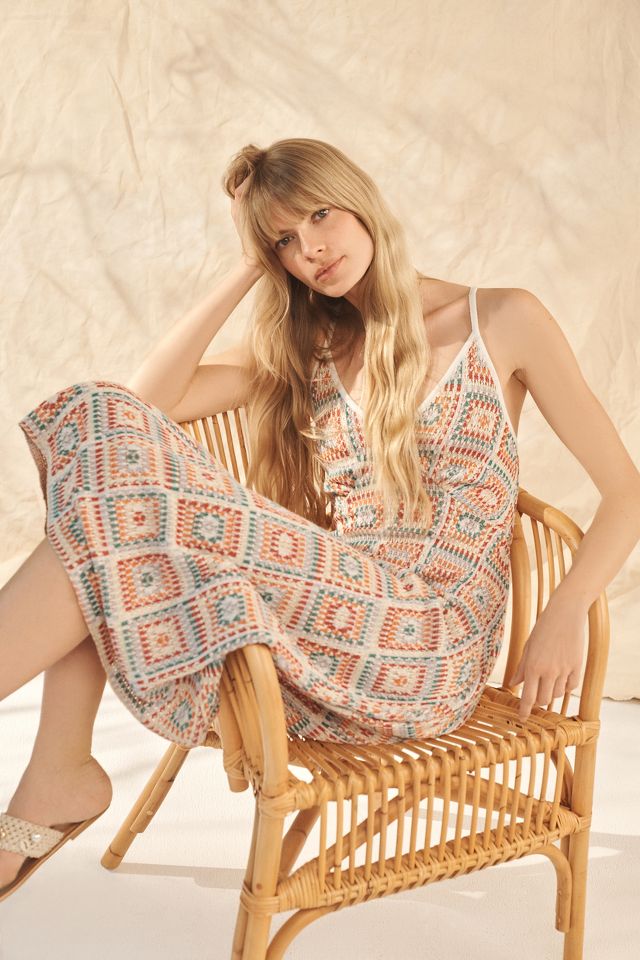 Crochet Maxi Dress
Summer's cardinal rule: don't over think it. Crafted from crocheted granny squares in an effortless silhouette, it brings retro-inspired charm and endless comfort to your day.
| | | |
| --- | --- | --- |
| | | |
| Ruffled Peplum Tank | Hayden Checked Shorts | Bobbie Reversible Quilted Denim Jacket |
| In a timelessly feminine silhouette, this textured top is a boho-chic staple - just add relaxed jeans and sandals for a must-have seasonal ensemble. | Cotton | For a modern twist on old-world charm, opt for this quilted kimono jacket - rendered in lightweight denim, it elevates everyday looks with ease. Best of all? Its reversible silhouette offers endless opportunities for style. |
Launched in 2016 by the Italian clothier NYKY, OOF's assortment of luxe clothing and accessories is crafted with a commitment to sustainability. In an effort to curb the environmental impact of their designs, OOF refrains from using any animal-based materials - opting for the durable, ultra-soft alternatives afforded by modern technology.
| | | |
| --- | --- | --- |
| | | |
| Rose Utility Coat | Colorblocked Windbreaker | Printed Utility Shirt Jacket |
| With a shimmery finish and pockets to spare, this layer brings an optimistic touch to breezy days and evenings. | Invite charm and cheer to your seasonal wardrobe with this oh-so-vibrant windbreaker. | Form, meet function: This jacket features utilitarian touches and a lively motif for plenty of versatility and flair. |
| | |
| --- | --- |
| | |
| Floral Poncho Raincoat | Gingham Rain Coat |
| An eye-catching pick for springtime showers, this waterproof floral poncho lends a functional, feminine twist to your closet. | Equal parts form and function, this gingham raincoat features a waterproof finish that allows you to enjoy springtime showers in style. |
| | | |
| --- | --- | --- |
| | | |
| Maeve Puff-Sleeved Top | Maeve Apron Tank | Maeve Picnic-Striped Blouse |
| A romantic match for go-to denim shorts and sandals, this puff-sleeved top is our favorite pick for brunch with friends or an evening stroll by the sea. | An apron-style silhouette and flurry of cheerful polka dots imbue this tank with vintage-inspired charm. | Cotton |
| | | |
| --- | --- | --- |
| | | |
| Maeve High-Low Tunic Blouse | Maeve Smocked Tank | Maeve Embroidered Buttondown |
| Cotton | Featuring a smocked bodice that accentuates your curves, this top grants your summer wardrobe plenty of feminine flair. | Featuring an abundance of vibrant motifs - from abstracts and florals, to marine scenes and beyond - this buttondown is sure to inspire conversation wherever your adventures take you. |
| | | |
| --- | --- | --- |
| | | |
| Maeve Ringer Graphic Tee | Maeve Embroidered Surf Buttondown | Maeve Fern Contrast Buttondown |
| Cotton, spandex | This buttondown's animated embroidery echoes the call of the sun, sand, and surf. Whether styled as a cover-up or with a pair of denim cut-offs, it's sure to become a seasonal favorite | Featuring an abundance of vibrant contrast motifs - from abstracts and florals, to cheery checks and beyond - this buttondown is sure to inspire conversation no matter where your adventures take you. |
| | | |
| --- | --- | --- |
| | | |
| Maeve Banded Knit Tank | Maeve Bow-Tie Tank | Maeve Picnic Graphic Tee |
| Viscose, linen, polyamide, elastane | Featuring a playful bow tie embellishment, this tank makes a lovely companion for your favorite utility pants and sneakers. | Featuring an assortment of picnic-inspired prints - from juicy blueberries, to a lovely lemon motif - this tee invites color and charm to any seasonal look. |
| | | |
| --- | --- | --- |
| | | |
| Maeve Valencia Graphic Tee | Maeve Bree Cropped Blouse | Maeve Cosima Ruffled Top |
| Bring a bit of zest to everyday looks with this charming, citrus-inspired graphic tee. An homage to the sun-soaked orange groves of Spain, it's sure to bring joy to all you meet. | Cotton | A lovely match for flouncy mini skirts and skinny jeans, this top features statement-making ruffles for an elevated flourish. |
| | | |
| --- | --- | --- |
| | | |
| Maeve Ashlee Ruffled Blouse | Colette Peasant Blouse | Maeve Drea Scoop-Neck Top |
| Viscose | Breezy balloon sleeves and an eye-catching floral motif make this blouse an ideal complement to polished denim and your favorite ankle boots or flats. | An outfitting staple, this top brings effortless polish to just about anything in your closet - from utilitarian joggers, to flouncy midi skirts. |
| | | |
| --- | --- | --- |
| | | |
| Embroidered Tunic Buttondown | Twist Halter Tank | Tie-Back Sweatshirt Tee |
| Cotton | This tank's twist-back detail and softly draped fit make it a lovely match for go-to shorts and sandals. | A tie-back hem and a relaxed, easygoing fit grant this sweatshirt tee with an anything-but-basic feel. Style it with a pair of printed shorts for a weekend-ready look. |
| | | |
| --- | --- | --- |
| | | |
| Ruffled Back-Tie Blouse | Always Exploring Graphic Tee | Knit V-Neck Tank |
| Ruffled touches and a back tie detail infuse this blouse with carefree femininity. | Cotton | For the perfect transitional piece, look no further than the sweater tank - this sleeveless knit partners well with everything in your closet, from weekend denim to polished pencil skirts. |
| | | |
| --- | --- | --- |
| | | |
| Breezy Tube Top | Embroidered Swing Tank | Smocked Tie-Back Tank |
| Cotton, linen | With artful embroidery and a swingy silhouette, this tank is a staple for summer days spent in sun-kissed bliss. | Featuring a tie-back bow and a sweetly smocked finish, this top puts a dainty spin on summertime styling. |
| | | |
| --- | --- | --- |
| | | |
| Maureen Babydoll Tunic Blouse | Rebecca Smocked Top | Daisie Crop Top |
| In a classically feminine silhouette, this blouse features a colorful, globally-inspired print that makes for effortlessly versatile style. | Dramatic puffed sleeves impart an air of easy-breezy sophistication, making this top the perfect match for everyday denim and sneakers. | Whether styled solo or with its matching skirt, this crop top brings charm and cheer to any warm-weather look |
Go to:
Add World-Luxury to your favorites