European Bookends, Book Shelves and Frames
Bookends and picture frames with European style. The finishing touch for your home office and library. Go to: European Bookends, Bookshelves, William Yeoward, Waterford Crystal Frames, Argento Sc Frames, Georg Jensen, Digital Picture Frames

| | | |
| --- | --- | --- |
| | | |
| We Shall See Étagère | Addie Étagère | Sutter Bookcase |
| Destined to be a focal point in the room, this sophisticated piece works equally well as a bookcase or room divider. Exquisite white Capiz shells add coastal character to its drawer front and back panel while a pearlized Oyster finish highlights its softly rounded silhouette. Elegant glass shelving makes it easy to display your favorite books, seashells or treasures while conveying a modern design statement. Bunch several together for design impact or to create a visual divider in an open space. | Handcrafted étagère. Iron/glass. 37"W x 15"D x 80"T. | Handcrafted bookcase made of oak veneers and furniture grade hardwood. Puck light in top shelf with three-level intensity touch switch. |
| | | |
| --- | --- | --- |
| | | |
| Bryn Tri-Fold Étagère | Aris Antique Gold Étagère | Going Up Étagère |
| The ultra stylish étagère features the perfect blend of industrial and mid-century modern styles. Antiqued gold and natural gray finish combination, the tri-fold design houses the three tiered shelves in peculiar fashion. The overall layout draws attention to the unique personality of the wood grain, while its sophisticated iron frame adds versatile fashion to this shelving unit, making it the perfect storage solution to any ornate living room, den, or bedroom application. Approx.: 15.5"W x 64"D x 69"T. | Antiqued gold and natural gray finish combination, the adjustable shelves draw attention to the unique personality of the wood grain and its sophisticated iron frame adds versatile fashion to shelving unit, making it the perfect storage solution to any ornate living room, den, or bedroom application. Handcrafted étagère made of iron and wood. 6"D x 19.3"W x 76.5"T. | Create a polished vignette and add another layer of elegance to your room with this eye-catching étagère. Open and airy, its dreamy appearance features an allover Soft Silver Paint enhanced with a metal fretwork back in a bamboo motif accentuated with Whisper of Gold. Back-painted glass in a Taupe Metallic distinguishes the interior of this five-shelf display piece. Drawing inspiration from classic Chippendale style, this étagère can be used on its own for storage and display or bunched together to make a bold design statement. |
| | | |
| --- | --- | --- |
| | | |
| Caden Bookshelf | Kai Hutch Bookshelf | Kenneth Modular Bookshelf |
| Tall, slim bookshelf in a mix of industrial metal and natural wood tones. Tall silhouette set with six fixed shelves that are perfect for displaying favorite pieces in any space. | Mid-century modern bookshelf in a wooden finish trimmed with antique gold-tone hardware. Fitted with three shelves and a filing cabinet-style drawer for tons of storage. | Store it all in this modern minimal modular bookshelf. Mid-height design fitted with twelve fixed shelves for tons of storage options. The mix of cubby sizes fits all your home décor pieces and more. |
| | |
| --- | --- |
| | |
| Holborn Étagère | Time to Reflect Display Cabinet |
| London's parks offer green oases within iron fences. Our Holborn collection is inspired by a design for an iron fence in a rare architectural book—originally published in the High Holborn area of London—in Colonial Williamsburg's library. Such neoclassic circular motifs—inspired by designs used in Roman interiors discovered at the excavations of Pompeii and Herculaneum—were popular in the late 18th and early 19th centuries. We've translated the design's iron circles into mother-of-pearl inlay, and its iron spikes to nickel handles for an update on designs popularized by taste makers such as Robert Adam, Thomas Sheraton, and Thomas Jefferson. | Handcrafted cabinet features a center wood-framed glass shelf. Two doors with three adjustable glass shelves. Mirrored interior and LED light. Made of birch and maple wood. 45"W x 19"D x 80"T. |
| | | |
| --- | --- | --- |
| | | |
| Maya Open Shelf Console | Maya Bookshelf | Deluxe Tamboured Storage Shelf |
| A room-anchoring addition to any space, this tiered console features a mix of materials - from lavish marble to natural oak - as well as open shelves for displaying dinnerware, glassware, and other serving essentials. | A room-anchoring addition to any living space, this bookshelf features a mix of materials from lavish marble to natural oak, providing space for displaying your favorite books, knick-knacks, and accessories. | The Deluxe Tamboured collection is our most luxurious-to-date take on a decidedly 1950s, mid-century silhouette. A white marble top lends a fresh touch to the silky appearance of this storage shelf's rosewood veneer, while brass-capped accents complement its exquisite tambour drawers and elongated shelves. |
| | | |
| --- | --- | --- |
| | | |
| Kalmar Ten-Tier Wall Mounted Shelf | Kalmar Wall Mounted Bookshelf | Kalmar Wall Mounted Bookshelf |
| While out to dinner one night in Ho Chi Minh City, our buyers happened upon District Eight, a tucked away design store full of striking, minimalist pieces. Using a special process, the shop's artists smoke reclaimed wood until it acquires their signature rich finish. The result is a collection of elegant, industrial pieces that incorporate thoughtful details of function and simple beauty. | Featuring hard fumed oak shelves and a steel frame that creates a striking, two-toned effect, this wall-mounted shelf makes a cherished spot for books, display objects, and more. | Featuring hard fumed oak shelves and a steel frame that creates a striking, two-toned effect, this wall-mounted shelf makes a cherished spot for books, display objects, and more. |
| | |
| --- | --- |
| | |
| Doheny Nickel Etagere | Hand-carved Paje Bookcase, Indigo |
| The doheny nickel étagère is a timeless classic for any room. Used as pairs in the living or dining room, or in the master bath with thick towels stacked--- the étagère is a designer basic with its accents of bamboo. Handcrafted of steel and hardwood solids Polished nickel finished steel, hardwood | Featuring optically intriguing crisscross markings in a rich indigo hue, our hand-carved Paje collection is artfully timeless and modern at once. Anchored with cabinet storage, this elongated bookcase offers a globally inspired aesthetic for showcasing books, knick-knacks, and decorative treasures. |
| | | |
| --- | --- | --- |
| | | |
| Alana Bookshelf | Doheny Brass Étagère | Alana Large Bookshelf |
| Powder-coated metal bookshelf with a modular look inspired by '60s décor. Featuring four compartments with curving edges to store books, records set at a slant, trinkets and more, just the way you like. No two displays will ever be the same! Standing construction features looped legs. | Handcrafted brass étagère is a designer basic with its accents of bamboo Hardwood insert shelves secure to the shelf frame and finished in gloss black Trim and bamboo supports are made of steel Finished in an antiqued aged brass finish | Powder-coated metal bookshelf with a modular look inspired by '60s décor. Featuring a variety of compartments with curving edges to store books, records set at a slant, trinkets and more, just the way you like. No two displays will ever be the same! Standing construction features looped legs. |
Sea Lions Bookends
Billie Large Marble Bookend
Billie Small Marble Bookend
House of Hackney Amphibia Bookends
Set of two. Cast iron. 9"H, 5"W, 3"D
Handcrafted of marble.
Meet the latest additions to House of Hackney's animal menagerie: an army of frogs. Crafted from ceramic and brass then hand-painted in naturalistic shades of green and black, these playful bookends draw inspiration from the famous amphibians in fairy tales by the Brothers Grimm—as well as the little green creatures found in the fairy tale gardens at the Castle of Trematon in Cornwall, England. Set of two. Approx. 11.8"Sq. x 19.7"T.
| | | |
| --- | --- | --- |
| | | |
| Pair of Owl Bookends | Horn Rimmed Bookends | Fleur de Lis Bookends |
| Owl bookends made of unglazed porcelain on a nickel stand and marble base. Each, 4"W x 4.25"D x 9.25"'T. | Beautifully crafted bookends of horn. Resin base. Two-piece set. 7.3"W x 8.3"D x 15"T. | Wax cast fleur de lis pair of bookends. Perfect addition to the distinguished library, the dignified desktop, or to the well-appointed kitchen. Handcrafted of iron. Two-piece set. Each approx. 9"W x 3"D x 6"T. |
| | | |
| --- | --- | --- |
| | | |
| Slab Rectangle Bookends in Silver and Gold, Set of 2 | Chunk Iris Gelp Bookends | Scottie Bookends |
| Handcrafted, solid marble hand-carved bookends with a silver and gold wash patina. Set of two. Each: 3.25"W x 3"D x 5.5"T. | Thick clear art glass is blown by Polish artisans. These book ends have a metallic iridescent finish that is the result from a chemical reaction. | The perfect decorative accessory for any dog lover. Our Scottie Bookends are made from solid iron with a leaf finish. 6.5"L x 1.5"W x 8"T (2.4 lbs). |
| | | |
| --- | --- | --- |
| | | |
| Nolan Crystal Bookends | Stoneridge Moon Bookends | Prescott Bookends |
| Formed of dramatic solid crystal quarter-rings, the Nolan bookends may be styled multiple ways. The shapes may be laid on their side to form an "S" shape or on their flat bottom to form curved bookends. Handcrafted of crystal. Set of two. Approx. 2.5"L x 6"W x 6"T | Stoneridge is a modern, yet classic design, made from quartz rock cast in resin. The curved side allows for a tall or short end to face out. Half-moon shaped bookends, handcrafted of quartz and resin. Set of two. Approx. 3"L x 5"W x 7"T | The marbled ball and a "L" shaped base form the contemporary Prescott bookends Hand marbled durastone in black & white is mounted on the clear Lucite support to create a dramatic addition to supporting your books. Handcrafted of acrylic and resin. Set of two. Approx. 5"L x 7"W x 6"T |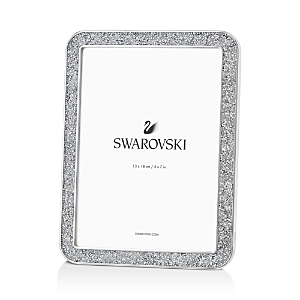 Swarovski Minera Picture Frame, Silver Tone
The Minera Collection marks a collaboration with internationally renowned Austrian designer Thomas Feichtner. Redefining modern elegance, this sophisticated set features glistening crystals and luxe accents.
| | | |
| --- | --- | --- |
| | | |
| Hammered Frames | Argento Sc Castell Sterling Silver Picture Frame | Double Bead Sterling Silver Frame |
| Argento hammered sterling silver frame. Dual easel for portrait and landscape tabletop display. Clear lacquered for tarnish free appearance. Perfect for your favorite photos, they also make an exceptional gift. | Blending clean rounded lines and hand-polished sterling silver, the cosmopolitan Castell picture frames by Argento SC accent cherished memories with modern appeal. | Photo frame by Argento feature unique and authentic tarnish free sterling silver. Hand made and uniquely crafted in Italy. |
| | | |
| --- | --- | --- |
| | | |
| Argento Sc Bamboo Sterling Silver Frames | Argento Sc Modern Frames | Argento Sc Amira Double-Bead Sterling Silver Frame |
| Display your memorable moments in Argento's sterling silver picture frames, handmade in Italy in an elegant bamboo motif. Italy | Slim-lined frame with crisp curved edges from Argento SC bring fresh modern style to your favorite photos. Tarnish-free sterling silver | Made in Italy, Argento SC's Adelaide picture frame is decorated with an attractive double-beaded border rendered in fine sterling silver. Designed with a double-beaded border. Made in Italy |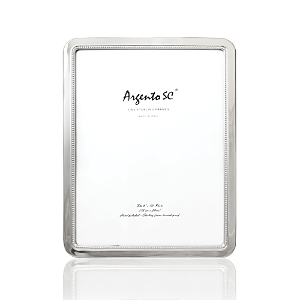 Curved Inner Bead Sterling Silver Frame
Timeless and refined, this sterling silver frame makes an exceptional gift, even if it's for yourself. Use it to frame your favorite photos or to display a special invitation.
Picture frame collection from William Yeoward. Made in England
| | | |
| --- | --- | --- |
| | | |
| Classic Metal Frames, Gold | William Yeoward Classic Shagreen Photo Frame, 4 x 6 | Classic Raw Silk Frame Collection |
| This classic piece of decor from William Yeoward has an elegant Art Deco design that artfully flatters your chosen image. | William Yeoward's fashion-forward frame presents photos with vibrant color and a touch of shine. | Showcase your favorite family photos within the Classic Raw Silk Frame Collection by William Yeoward Crystal. Elegantly decorated with Art Deco-inspired details, each frame has an easel back that allows for vertical or horizontal tabletop display. |
| | | |
| --- | --- | --- |
| | | |
| Aura Sawyer by Aura Digital Picture Frame | Aura Mason by Aura Digital Picture Frame | Aura Mason by Aura Digital Picture Frame |
| Buzz-worthy smart digital frame showcases innovative technologies including high resolution, crisp clear screens that adjust brightness and a touch bar that allows you to scroll through photos | Stylish frame that automatically displays your photos at the perfect brightness for the room you're in and sensing the light, will go to sleep when you do. Change photos and view details with interactive touch bars. Turn the frame on its side to switch from portrait to landscape orientation | Stylish frame that automatically displays your photos at the perfect brightness for the room you're in and sensing the light, will go to sleep when you do. Change photos and view details with interactive touch bars |
Go to:
Add World-Luxury to your favorites