Luxury Bathrobes for the Home Spa
Luxury robes to complete your dream bathroom. Pampering softness in a range of colors and styles. Go to: Luxury Spa Robes, Spa Robes, Kassatex, Eileen West, Mer-Sea & Co. Bath Towel Wraps and Pampering
| | | |
| --- | --- | --- |
| | | |
| Sferra Canedo Robe | Sferra Amira Robe | Abyss Amigo Robe |
| Hooded. Hook at back neck, detachable self-tie belt, two front patch pockets. 100% cotton | Patch pockets, self-tie, shawl collar | Plush and cozy, this soft Giza cotton robe by Abyss features a shawl collar, side seam pockets and a self-tie belt. |
| | | |
| --- | --- | --- |
| | | |
| Missoni Giacomo Hooded Bathrobe | Karen Mabon Silky Snow Leopard Robe | Karen Mabon Wisteria Satin Robe |
| Allover multi-colored chevron pattern. Presented in a Missoni Home branded bag | Adorned with a set of slinking snow leopards, this silky robe brings a touch of whimsy to lazy Sunday mornings and stay-at-home movie nights. Best of all? It makes a fabulous gift for friends and loved ones. | Enchanting florals and a sumptuous satin finish ensure this robe will be a favorite for lazy days at home. Best of all? It makes a fabulous gift for your loved one. |
| | | |
| --- | --- | --- |
| | | |
| La Perla Maison Rainbow Satin Short Robe | Liberty London by Anthropologie Wildflowers Robe | Liberty London by Anthropologie Botanical Robe |
| Collarless. Wrap-around self-tie waistband. Multi-colored frastraglio lace with tulle backing at cuffs, scalloped edges. Kimono silhouette. Silk-blend fabric. Made in Italy | Designed by Liberty London in collaboration with Anthropologie, this oh-so-giftable robe features an elegant wildflower motif - and offers a comfortable fit she'll look forwarding to lounging in through the season. | Designed by Liberty London in collaboration with Anthropologie, this botanical robe makes a thoughtful gift for the holidays - and delivers a comfortable fit she'll look forwarding to lounging in through the season. |
| | | |
| --- | --- | --- |
| | | |
| Ozan Premium Home Waffle Unisex Bath Robe | Women's Hooded Full Ankle Length Fleece Bathrobe | Women's Hooded Full Ankle Length Fleece Bathrobe |
| Luxury Waffle Bathrobes Collection is made by soft, thick, 100% Genuine Turkish cotton. These exceptionally soft deep waffle waves are highly absorbent, keeping you dry and comfortable. Our Bathrobes get softer with each wash, providing long lasting quality and comfort. | Women's full ankle length hooded fleece robe. Soft and plush premium fleece construction will be gentle to your skin. Ideal to give as a gift, use as a house coat, nursing robe or to relax at home. | Women's full ankle length hooded fleece robe. Soft and plush premium fleece construction will be gentle to your skin. Ideal to give as a gift, use as a house coat, nursing robe or to relax at home. |
| | | |
| --- | --- | --- |
| | | |
| Turkish Cotton Piped Robe, Navy | Turkish Cotton Piped Robe, Grey | Turkish Cotton Piped Robe, Linen |
| Our timeless Turkish Piping Robe features rolled back, cuffed sleeves and contrast piping for added style. With zero-twist cotton for an incredibly soft feel, this robe is perfect for relaxing at home. | Our timeless Turkish Piping Robe features rolled back, cuffed sleeves and contrast piping for added style. With zero-twist cotton for an incredibly soft feel, this robe is perfect for relaxing at home. | Our timeless Turkish Piping Robe features rolled back, cuffed sleeves and contrast piping for added style. With zero-twist cotton for an incredibly soft feel, this robe is perfect for relaxing at home. |
| | | |
| --- | --- | --- |
| | | |
| Turkish Cotton Robe, Gray | Turkish Cotton Robe, White | Turkish Cotton Robe, Avena |
| Keep it classic with our timeless Turkish Plush Robe. Made from zero-twist cotton for an incredibly soft feel, itís the perfect cozy gift. | Keep it classic with our timeless Turkish Plush Robe. Made from zero-twist cotton for an incredibly soft feel, itís the perfect cozy gift. | Keep it classic with our timeless Turkish Plush Robe. Made from zero-twist cotton for an incredibly soft feel, itís the perfect cozy gift. |
| | | |
| --- | --- | --- |
| | | |
| Peshtemal Turkish Robes, Blue | Peshtemal Turkish Robes, Grey | Peshtemal Turkish Robes, Taupe |
| A spa-inspired, quick-drying alternative to your traditional bathrobe. Our Peshtemal Robes are made with 100% Turkish cotton for a lightweight feel and sophisticated look. | A spa-inspired, quick-drying alternative to your traditional bathrobe. Our Peshtemal Robes are made with 100% Turkish cotton for a lightweight feel and sophisticated look. | A spa-inspired, quick-drying alternative to your traditional bathrobe. Our Peshtemal Robes are made with 100% Turkish cotton for a lightweight feel and sophisticated look. |
| | | |
| --- | --- | --- |
| | | |
| Waffle Weave Robe, White | Waffle Weave Robe, Linen | Waffle Weave Robe, Slate |
| Keep it cozy in our new Waffle Weave Robe available in linen, slate and white. This relaxed take on the classic waffle robe features a looser waffle-weave. Lightweight and ultra comfortable. | Keep it cozy in our new Waffle Weave Robe available in linen, slate and white. This relaxed take on the classic waffle robe features a looser waffle-weave. Lightweight and ultra comfortable. | Keep it cozy in our new Waffle Weave Robe available in linen, slate and white. This relaxed take on the classic waffle robe features a looser waffle-weave. Lightweight and ultra comfortable. |
| | | |
| --- | --- | --- |
| | | |
| Spa Luxury Robes, White | Spa Luxury Robes, Blush | Spa Luxury Robes, Bone |
| Wrap yourself in luxury with our lightweight Spa Luxury Bathrobes. These exceptional bathrobes feature a smooth microfiber exterior in an array of soothing colors and an absorbent terry lining. | Wrap yourself in luxury with our lightweight Spa Luxury Bathrobes. These exceptional bathrobes feature a smooth microfiber exterior in an array of soothing colors and an absorbent terry lining. | Wrap yourself in luxury with our lightweight Spa Luxury Bathrobes. These exceptional bathrobes feature a smooth microfiber exterior in an array of soothing colors and an absorbent terry lining. |
| | | |
| --- | --- | --- |
| | | |
| Spa Luxury Robes, Silver Sage | Marlow Women's Jersey Knit Robes, Grey | Marlow Women's Jersey Knit Robes, White |
| Wrap yourself in luxury with our lightweight Spa Luxury Bathrobes. These exceptional bathrobes feature a smooth microfiber exterior in an array of soothing colors and an absorbent terry lining. | Lounge around the house in comfort and style with our Marlow Robes. This long-length bathrobe is lightweight and features 3/4 sleeves. | Lounge around the house in comfort and style with our Marlow Robes. This long-length bathrobe is lightweight and features 3/4 sleeves |
| | | |
| --- | --- | --- |
| | | |
| Hotel Waffle-Terry Robes, Grey | Hotel Waffle-Terry Robes, White | Turkish Velour Robe, White |
| Immerse your senses in our 100% cotton Hotel Waffle Terry Bathrobes featuring a sophisticated waffle weave exterior and absorbent terry interior for the perfect combination of elegance and comfort. | Immerse your senses in our 100% cotton Hotel Waffle Terry Bathrobes featuring a sophisticated waffle weave exterior and absorbent terry interior for the perfect combination of elegance and comfort. | Relax at home in style with our classic cut Velour Bathrobe. Made in Turkey from cotton and microfiber, a terry lining keeps it extremely absorbent while the velour fabric on the outside is soft and snuggly. |
| | | |
| --- | --- | --- |
| | | |
| Women's Linen-Bamboo Robes, White | Women's Linen-Bamboo Robes, Pale Pink | Alexandra Women's Waffle Robes |
| Perfect for summer getaways and warmer climates, our Linen Robe is crafted from a blend of breathable linen and soft rayon from bamboo. | Perfect for summer getaways and warmer climates, our Linen Robe is crafted from a blend of breathable linen and soft rayon from bamboo. | Crafted from 100% soft cotton waffle, our Alexandra Robes redefines elegance in the most delicate and feminine way. This short-length robe features an open weave, double border design on cuffs and pockets, making it a chic must-have for bathing and lounging in style and comfort. |
| | | |
| --- | --- | --- |
| | | |
| Hotel Kimono Waffle Robes, White | Hotel Kimono Waffle Robes, Grey | Contempo Hooded Robes, Ice Blue |
| Featuring a sophisticated waffle weave and designed with a contemporary kimono cut, our 100% cotton Hotel Kimono Waffle Robe is the perfectly lightweight. | Featuring a sophisticated waffle weave and designed with a contemporary kimono cut, our 100% cotton Hotel Kimono Waffle Robe is the perfectly lightweight. | Immerse your senses in the unparalleled comfort of our Contempo Hooded Bathrobes. Made from luxurious Turkish cotton, these robes are supremely plush and absorbent |
| | | |
| --- | --- | --- |
| | | |
| Contempo Hooded Robes, Steel | Contempo Hooded Robes, White | Contempo Hooded Robes, Ecru |
| Immerse your senses in the unparalleled comfort of our Contempo Hooded Bathrobes. Made from luxurious Turkish cotton, these robes are supremely plush and absorbent | Immerse your senses in the unparalleled comfort of our Contempo Hooded Bathrobes. Made from luxurious Turkish cotton, these robes are supremely plush and absorbent | Immerse your senses in the unparalleled comfort of our Contempo Hooded Bathrobes. Made from luxurious Turkish cotton, these robes are supremely plush and absorbent |
Pique Hooded Robes, Powder Pink
Wrap yourself in luxury with our Pique Hooded Bathrobes. Featuring a slightly textured pattern, each bathrobe is hooded and extremely lightweight.
| | | |
| --- | --- | --- |
| | | |
| Enchante Home Hooded Turkish Cotton Bathrobe | Enchante Home Waffle Terry Turkish Cotton Bathrobe | Enchante Home Shawl Collar Turkish Cotton Bathrobe |
| Look through the sumptuous comfort from Enchante Home with this plush robe that features a wide hood, removable belt, and cuffed long sleeves. Stay cozy and comfy by having our handy, soft, flashy Hooded Turkish Bathrobe. | Introducing our best seller robe that specialized in perfect absorbency, fast drying, and lightweight with a soft texture of the luxurious Waffle Terry Turkish Bathrobe. Allow us to make you feel more comfortable and pleased with our elegant bathrobe. This is the item you need to slip on after taking a bath or shower then go relax and let it dry. | Our divine Shawl Collar Turkish Bathrobe provides gorgeously a softness and sense of touch. Your skin dries off quickly and stays moisturized. You can feel the sense of silky and smooth on your pampered skin. Product features a removable belt and cuffed long sleeves. |
Deeply connected to their sense of adventure, the founders of Mer-Sea & Co. are inspired by the soulful rhythms and universal pleasures of the ocean - and its ability to renew the body and calm the mind. Believing the key to a life well-lived is impromptu travel, they created their beauty and lifestyle brand to appeal to the spirited vagabond and ever-optimist in each of us. The line of handcrafted scrubs, washes, and candles captures the carefree nature of the seaside, whether through sun-kissed packaging, marine-sourced ingredients, or fresh and nostalgic scents.
| | | |
| --- | --- | --- |
| | | |
| Mer-Sea & Co. Live Well, Be Well Sea Sponge | Mer-Sea & Co. Salt Aire Lotion | Mer-Sea & Co. Body Cream |
| Level up your shower line-up with this natural sea sponge. Once considered a luxury to the ancient Romans, it can be paired with your favorite body wash or bar soap to create a rich lather. Better yet? It's naturally hypoallergenic and bacteria-resistant. | Featuring a seaside-inspired scent that suits the season, this lotion is a perfect addition to any bathroom or kitchen. Formulated with nourishing ingredients - think shea butter, sea kelp, and sweet almond oil - it leaves your hands feeling soft and supple. Better yet? In a chic glass bottle, it makes a sweet thinking-of-you gift for a loved one, too. | Formulated for dry, winter-worn skin, this aloe-rich cream helps heal and nourish for soft, touchable skin. Featuring an assortment of scents evocative of shoreline strolls and summertime sunsets, give her the gift of an (aromatic) warm-weather getaway. |
| | | |
| --- | --- | --- |
| | | |
| Mer-Sea & Co. Live Well, Be Well Exfoliating Bath Pillow | Mer-Sea & Co. Live Well, Be Well Mineral Bath Soak | Mer-Sea & Co. Hair Towel Wrap |
| With a soft waffle-woven side for relaxation and a textured sisal side for exfoliation, this two-in-one accessory can be used as cushioned bath pillow or a body buffing sponge. Practical and versatile, it's a welcome addition to anyone's self-care regimen. | Brimming with mineral-rich sea salt and magnesium that encourage muscle relaxation, this beautifully scented soak is just what you need to help you unwind after a busy day. | Save time drying your hair with this playfully printed towel. It's designed with a soft, ultra-absorbent microfiber lining that helps reduce frizz and breakage, while a convenient button and loop closure allows it to stay securely wrapped as you go about your morning routine. With less bulk than a bath towel, this lightweight wrap eases stress on your neck and scalp, too. |
| | | |
| --- | --- | --- |
| | | |
| Mer-Sea & Co. Live Well, Be Well Foaming Body Scrub | Mer-Sea & Co. Live Well, Be Well Massaging Facial Brush | Mer-Sea & Co. Live Well, Be Well Waffle Towel Wrap |
| Enriched with antioxidants and nourishing aloe vera, this foaming body scrub works to deeply replenish dry, winter-worn skin while buffing away rough patches and impurities. | Crafted with soft, synthetic bristles, this brush can be used with your favorite face wash to transform your cleansing routine into an invigorating massage. It buffs away dry, rough patches while helping to stimulate lymphatic drainage, promoting a radiant complexion. | A luxe addition to your at-home spa nights, this versatile wrap can be used as a towel or robe, fastening securely so you can confidently go about your routine. Crafted from so-soft waffled cotton, it keeps you cozy while absorbing excess water with ease. |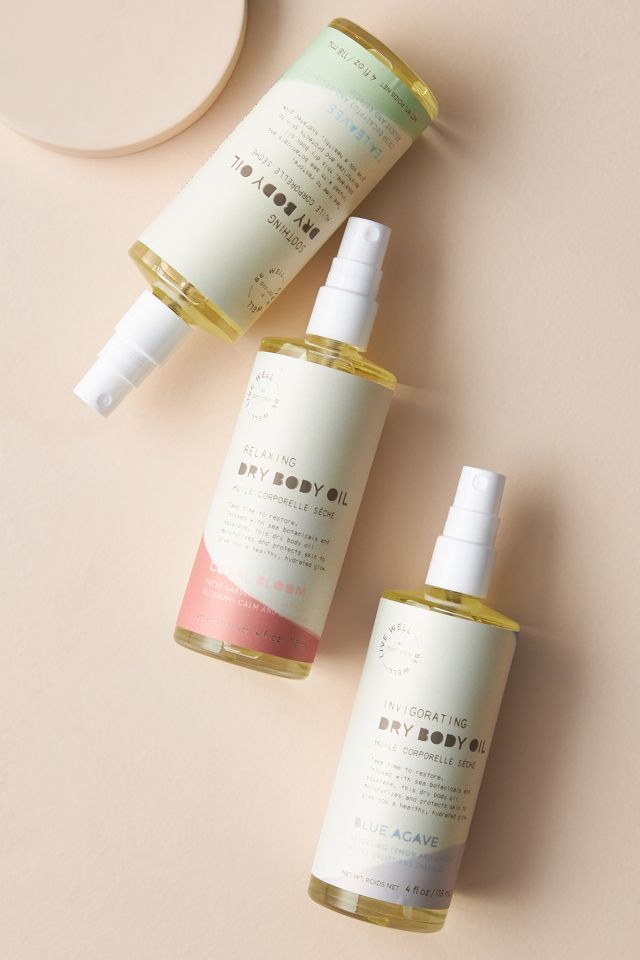 Mer-Sea & Co. Live Well, Be Well Dry Body Oil
Take time to restore your skin with this nourishing body oil. Enriched with sea-sourced botanicals and squalene, it moisturizes and replenishes to promote a healthy, hydrated glow from head to toe.
Go to:
Add World-Luxury to your favorites